A beautiful Ghanaian couple have tied the knot in a traditional marriage ceremony
Esinam and Wendell married in January 2020
Stunning photos of their traditional nuptial have hit the internet.
With dazzling smiles nearly falling off their photos, Ghanaian groom, Esinam and bride, Wendell tied the knot at a gorgeous traditional marriage ceremony in January 2020.
Wendell and her prince charming Esinam made their long-time relationship official in a traditional ceremony and the couple did not miss the opportunity to highlight the Ghanaian kente during their traditional nuptial.
The bride looked gorgeous in her Kente dress and her groom, amazing as they took steps to be joined together in one flesh.
One of the several photos shows Esinam in a smooth, glossy fabric decorated with kente. Another photo shows her in a sleeveless straight burgundy dress while adorned in beautiful Ghanaian made beads.
Wendell's bridesmaids were also captured in lovely white and gold apparels as they posed to capture moments with the bride.
The groomsmen matched up the bridesmaids with their dashing medium gold verses over their long sleeve shirts and white trousers.
Esimam stormed his marriage grounds in regal kente as his groomsmen heralded and ushered him in.
In some of the photos shared by Eacloudvisiongh.com  the bride and groom together with their bridesmaids and groomsmen were captured in lovely dance moves.
If you missed their pre-wedding shoot and love story below:
Check out their traditional wedding photos below: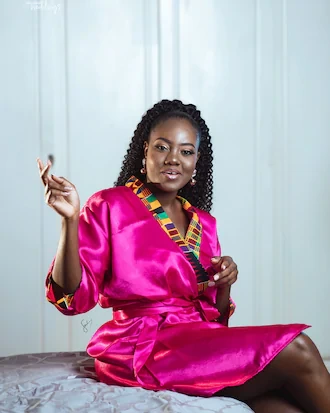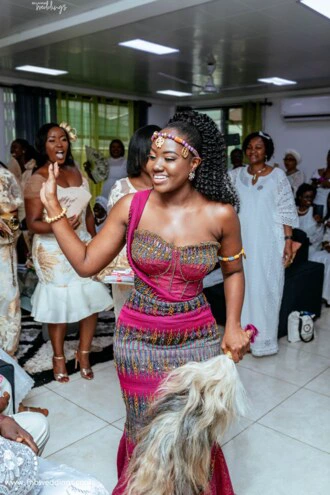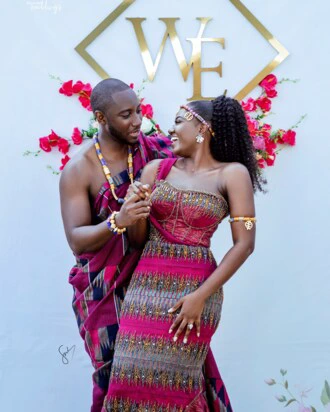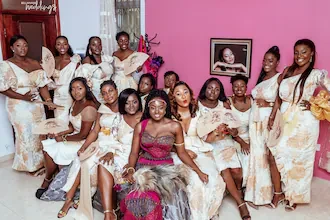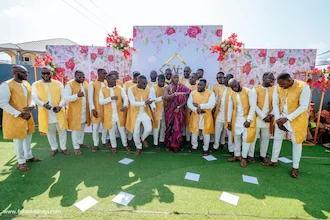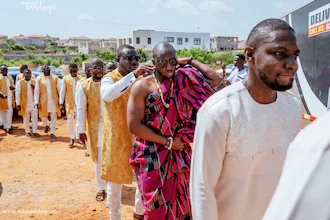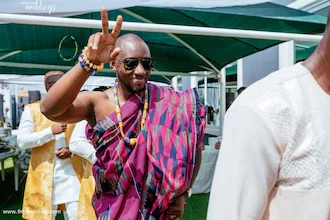 Justin Amoafo with Twitter name, @justinamoafo, shared adorable photos of himself with his Chinese girlfriend styled in the finest Ghanaian Kente.
The proud young man who appears to be caught up in a loved-up romance with his girlfriend posted photos showing him in his graduation gown while he hugging his girlfriend in one of the images.