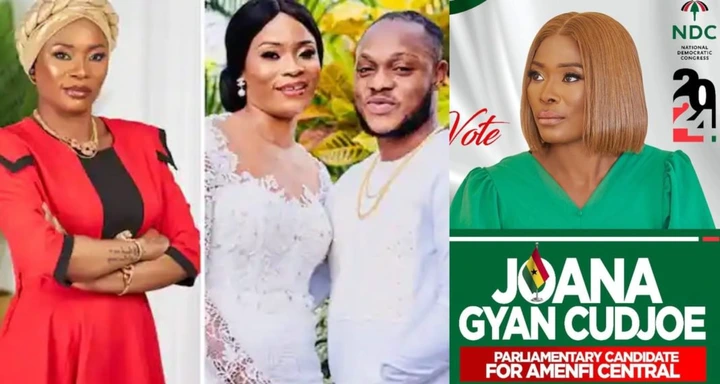 Joana Gyan, the wife and manager of popular Ghanaian musician Keche Andrew, has declared her intentions to contest as a member of Ghana's parliament in the 2024 election.
In a post, she made on Sunday, January 15, 2023, on her social media pages, the CEO of Golden Legacy Empire revealed that she is going to contest as MP for the Amenfi Central parliamentary seat on the ticket of the National Democratic Congress (NDC).
Making the post, Joana shared two different posters with her photos and the colours of the NDC and added the simple caption: 'Vote for me please'.
A lot of her followers have taken to the comment section to congratulate her for taking such a bold step and wished her well as well.
Currently, the Amenfi Central seat is occupied by Hon. Peter Yaw Kwakye-Ackah, who is also a member of the National Democratic Congress.
So the big question one would ask is, will Joana Gyan be able to wrestle power with him and take the seat at the party level and eventually win it for the NDC just as Hon. Peter Yaw Kwakye-Ackah did in 2020?
In an interview she granted Delay back in 2020 which became the talk of the town, Joana Gyan revealed that before every year closes she mostly has a whopping $700,000,000 in her bank accounts.
She also mentioned that she is the owner of the companies listed below…
* GEM multimedia Ghana ltd
* Colossus Minerals Ltd
* Joana TV Ltd
* GEM Rhythms Ltd
* The GEM Ltd pub
* KESSE music Ltd
* GELL Golden page Ltd
* GELL Farms Ltd
* GELL Petroleum Ltd
* GELL Real Estate Ltd
* KBA Mining Ltd
* Joana Gyan Foundation
* GELL Timber Ltd
* ZEMA Ghana Jewelry and Fashion School, Ltd
* Royalsekt Ghana Limited