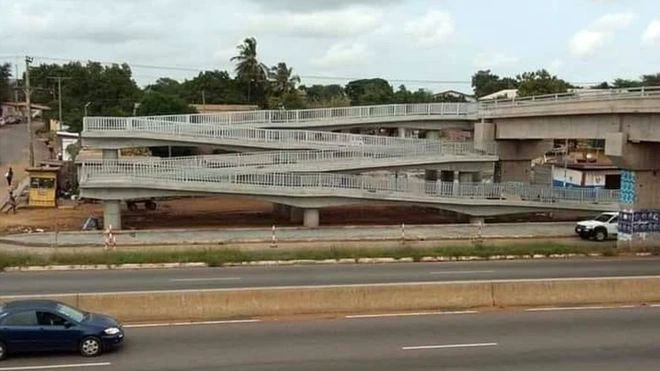 Member of Parliament for Assin Central the honorable Kennedy Ohene Agyapong has said the engineer behind the design of the Adenta "looonnng" footbridge should go back to school and learn again.
Following a series of highway knock-downs on the Adentan stretch of the busy road resulting in the death of some pedestrians leading to reaction by irate youth in Adenta, the government re-awarded the contract on the footbridges to new contractors.
The work of the contractors has been rejected by the members of the public.
While faulting Adenta residents for being irresponsible and undisciplined to use the speedways when the footbridge was available, Hon Kennedy Agyapong lamented that the Engineer for the footbridge also did a very poor job.
He advised the engineer to go back to school and learn engineering all over again as what he designed doesn't serve any useful need.
Kennedy Agyapong said he went and tried the bridge himself and realized the people who refuse to use it may have a point, but warned that risking their lives to cross the road is no option.
"Engineer no, w'abon paaaa", Kennedy Agyapong said in Twi. "He has to go back school. How can you design this thing.. four long walks on each side. I mean how?" He asked.
Engineer reacts
First Sky Limited, the contractor of one of the footbridges on the Adenta portion of the N4 Highway has also said the bridge is up to "international standards".
Reacting to concerns from some sections of the public concerning the length and nature of the access ramps on the bridge, the Projects Manager of First Sky Limited, Ernest Hammond, explained that the "winding" nature of the footbridge was because of space constraint.
Speaking on radio on Citi FM monitored by MyNewsGh.com, Mr Hammond said, the initial plan of the footbridge was disability unfriendly and that, the new design was aimed at making the footbridge accessible to all.
"The original design as I am aware of has stairs which was not disabled friendly. What we have done is more disabled friendly; meaning it is a ramp rather than stairs and it's easier to use for everybody," he explained.
More Pedestrians using speedways despite arrests.
More pedestrians are still using the speedways and crossing the road at unauthorized places at Madina Zongo Junction, and Adenta  the risk of their lives despite numerous Arrests.
Last week,  a Ghana News Agency (GNA) report from the site showed that many pedestrians were avoiding the use of the footbridge. Those who spoke to the Ghana News Agency said the footbridge was too high and that they got scared when climbing it.
Ms Regina Gyeketey, a pedestrian, said although she used the footbridge every morning, its height put fear in her and she had to drink a sachet of water before climbing it.
Many others said the length is why they prefer "dashing quickly" across the road.