My self and some members of my family are fan of Davido's music even though i may not be enthused with his lifestyle he flaunts on social media one may presume it could for the cameras but all cannot be said to be for just the show of it as he is one of the richest musicians is nigeria he is also from a wealthy home, with his dad swimming in millions of dollars, Davido has over the years done great to his music career to attain the highest in His music.
Recently, a lot has been circulating  online of Davido welcoming a baby boy from yet another woman and again I saw another headline that Chioma has moved out of Davido's place and probably out of his life too. I think it's high time women learn their lessons and follow the right part.
Can we say having so much success in his music career , his personal relationships with women could also go the same way?
In other related gists from Cutie Julls the Assurance couple have been at each other's throat for sometime now, to the extentent of Davido hitting Chioma any time there is a misunderstanding among them. Could this be the so called Assurance?
We doubt if this is possible as his numerous baby mama's circulating all over the world should serve as a warning to all ladies, it is said that 'a leopard never changes its spots'. I don't know why people see how others failed and still follow the same route to failure.
It was quite predictable that Chioma would end up being yet another baby mama, many people forecast ed it but it all sounded like a gossip.
Igbo women are known to be beautiful and smart but Chioma's case is likely different, Her fiance presses her breasts in front of his gang and even films it and puts it online, I knew this guy has zero respect for Chioma.
A man that loves you would understand the importance of privacy. Knowing the kind of person Davido is, she should have waited for him to marry her properly before taking in but she took in, moved in with him, dropped out of school, had a baby boy and thought she's finally the owner of the house because she had a ring on her fingers and the first boy, but OBO himself Davido being the usual Yoruba demon we all know, went ahead and had another boy from another woman.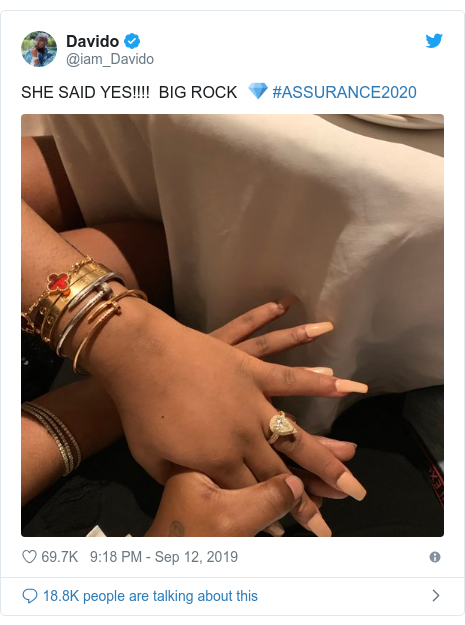 I still think Chioma has not learnt any  lesson from the level of disrespect Davido keeps bringing on her table as we recall the two of them have been together before all the children he has with the numerous women.
Chioma's decision to leave Davido, won't come easy for her as the stardom is something she may not be able to let go.
I pray she goes back to school and gets a degree and moves on with her life, she's still very young and has a bright future if she starts focusing on the important things of life and if Davido is still the one for her he will marry her and still be producing countless of babies across the globe for her to still swallow his cheating and disrespectful attitude towards her.
The above Instagram posts clearly suggests she's got the heart to tolerate more of his attitude.
My dear beautiful and blessed ladies, please never give upon your dreams because of a man, "Me first" is not selfishness. Know your worth and make a meaning out from your precious life, and secure a bright future.