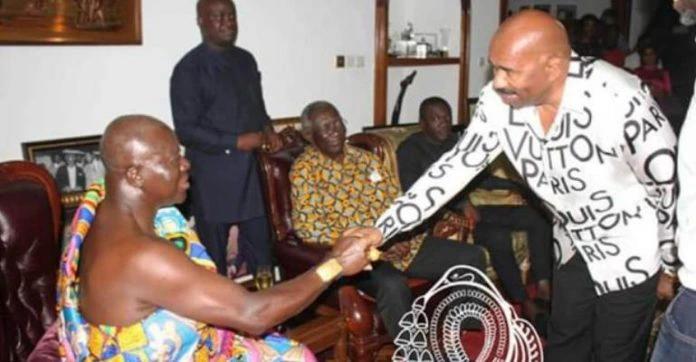 The latest photo of American comedian Steve Harvey in Ghana captures him and two of Ghana's revered personalities ‒ Otumfuo Osei Tutu II and ex-President John Agyekum Kufuor.
He could be seen exchanging pleasantries with Otumfuo via handshake while  Ex. President Kufuor and others sat at the background.
This was during Otumfuo Osei Tutu's visit to ex-President Kufuor on Thursday at his residence in Accra. Harvey is believed to be part of ex-president's visitors.
The 62-year-old humourist and actor is back in Ghana after his first trip to town in August 2019 which we published about his then visits.
Despite the numerous clothes he has received from Chocolate clothing, the gifts from Elikem and probably one or two outfits bought along the way, Steve Harvey's choice of clothing was a silk Louis Vuitton Paris shirt and the message Ghanaian designers should take from this.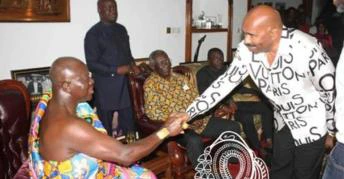 After questioning why such a prominent figure will make a western brand his choice of clothing when most will address royalty in traditional clothes, one will think the least he could do would be to wear African brands.
But then in hindsight of the clothes handed to him, the well tailored African tops, with long sleeves all the way cuffed at the wrist, and the neck flaps that close all the way at the top, thick fabric, so well fitted you need about three people to help you slide it on whilst you have your hands raised in the air.
As in the words of one famous African American "Ain't nobody got time for that!!" Ghanaians forget a major attribute of our country is the resort feel, nice warm weather with a cool breeze, westerners are used to freezing countries Ghana is hot for them. Some already can hardly breath, it's not their intent to come and kill themselves in hot thick fabrics. As one can see he even wore the same shirt in Botswana.
And this can easily be seen not only in Steve Harvey's choice of style meeting the royalty but his everyday presentation. Ghanaian make designers need to reconsider that style and work toward something more appropriate for the Ghanaian weather.
Harvey's Ghana trips are part of activities to mark the 'Year of Return Ghana 2019', an initiative by government to mark 400 years since the slave trade started.