Samuel Osei Kufour has shown off his pretty wife in a new trending video. The football together with his 'plus 1' were attending the plush dinner of Dr. Ofori Sarpong's daughterThey were seen smartly dressed as they arrived and exchanged pleasantries with the other guests
Former Ghanaian football international, Samuel Osei Kufour has finally shown the world the woman who has captured his heart in a new video going viral.
Popularly known as Sammy Kufour, the former Black Stars player was seen in town with his pretty fair-coloured wife.
The duo was attending the much-talked-about wedding between Cindy Ofori Sarpong, the daughter of Dr Ernest Ofori Sarpong and her hubby, Richard Peprah.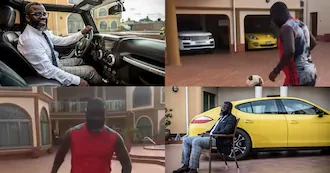 Sammy Kufour and his wife were seen arriving at the plush Kempenski Hotel where the dinner was being held.
When they got there, they exchanged pleasantries with some of the big guns that were also invited to celebrate with the newly-weds at their reception.
The former Bayern Munich star was seen wearing a very nice 3-piece suit while his wife wore an equally gorgeous dinner wear.
She was sticking very close to the footballer as he met and greeted some of the familiar faces he noticed at the reception.
The wedding which was hashtagged #Ciri2020 will go down as one of the most expensive weddings in the history of the country.
In a new video which is warming hearts on social media, Dr Ofori Sarpong and his pretty daughter were seen having a 'father and daughter' moment on the dancefloor.
Dr Ofori Sarpong, who was dressed in a light blue suit was seen taking some graceful steps on the dancefloor with his daughter as The Real Thing's You To Me Are Everything song blasted through the speakers.