Actress Salma Mumin has gone all guns blazing on Moesha Boduong on social media as their beef gets rekindled
Salma made denigrating comments about Moesha including claims that her house stunk some time ago
The actress also described Moesha as deformed and a not a good association for her brand
Salma's attacks follow claims on social media by Moesha that the former had was bitter after a body enhancement surgery failed to produce her desired results
Moesha's post was in response to Salma's statements in a recent interview that she would never talk to her again
Actress Salma Mumin has hit hard at colleague actress Moesha Boduong after the latter jabbed the former on social media over comments she made in a recent interview.
Salma, in an interview on Emelia Brobbey's Okukuseku, disclosed that the Moesha was the last person she would want to talk to.
The actress revealed though she had forgiven everyone who has offended her, she does not even want to see Moesha.
Salma's statement came in relation to a social mesia altercation  after Moesha accused her of travelling to Turkey for a body enhancement procedure.
Not pleased with Salma's statements, Moesha came on Instagram to indicate that she herself was not interested in talking to Salma again because she was badmouthing her when they were cool.
In her post on Sunday, December 15, 2019, which was later deleted, Moesha who claimed to have stayed in the same house with Salma suggested that Salma was bitter because the body enhancement procedure she travelled to Turkey to did not yield to any positive results.
But in a swift response on Instagram, Salma Mumin has denied Moesha's claims and even attacked her harder.
In the very denigrating response, Salma indicated they never lived in the same house because Moesha was living in a stinking single room with her brother.
"Massa you lived in single room with your brother and your house stunk as at that time. Dear, it was a problem visiting you in your house because of the smell talkless of staying with you," Salma said.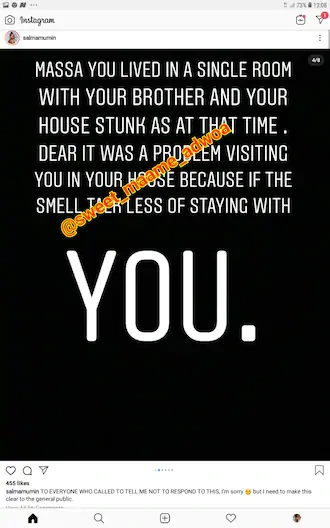 On the issue of body enhancement, Salma stated: "and oh about the surgery, not everyone wanna be deformed like you."
Meanwhile, Moesha has been seen with a swollen abdomen  in a photo after her new surgery.
Salma Mummin also caused tongues to wag when she released photos with increased backside .
Many people called her body fake as her previous photos betrayed her.