A video making waves on social media sets attention on Ghana's premium university, the University of Ghana after the renowned tertiary institution have been trending due to the 'infamous' 'Sex for grades' documentary by BBC.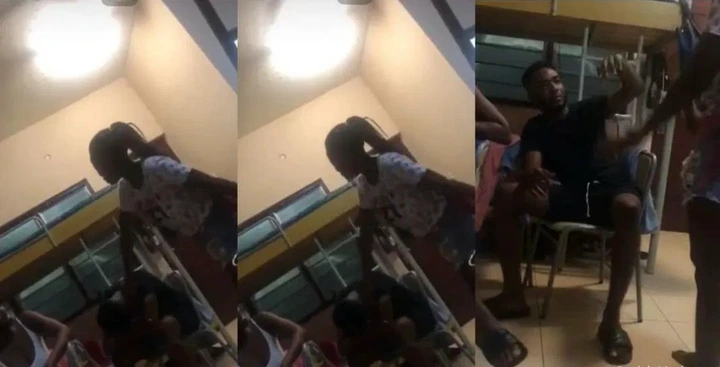 Well, in another brouhaha surrounding the school a young lady has been spotted in a video beating her boyfriend mercilessly with 'Chalewote' (slippers) for supposedly cheating on her.
The likes of Prof Gyampo and Dr Butakor will be dancing azonto in their various homes after this brouhaha has covered up their alleged sexual harassment on students of the University of Ghana.
In the embarrassing video the lady could be seen beating the hell out of her boyfriend and explaining how the whole incident happened in the midst of her friends.
The young man who was embarrassed bowed down his head in shame as he had no option than to receive the hot slaps of the lady's slippers for cheating on her.
The video has amassed some reactions with many bashing the lady for abusing the young man regardless of what he had done.
I am still wondering where the feminists are now especially that 'pepper dem ministries' or whatever. They would have been vocal if it had been a man abusing a lady but now they are 'peppering' themselves in silence.
Watch the video below: