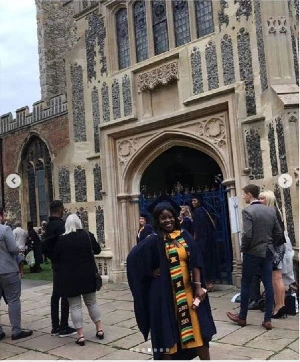 Ghanaian songstress, Grace Kaki Awo Ocansey, popularly known in showbiz as Kaakie is the happiest person on earth right now.
The beautiful songstress has successfully graduated from the Anglia University in London.
We've sighted a beautiful photo from her graduation and she is truly happy for achieving that feat.
The former High Grade signee couldn't hide her joy as she took to social media to thank God.
She wrote, "First I want to say a big thank u to God who made this happen and gave me the strength to start and finish. Second I want to thank my beautiful strong willing "go for it girl" mother who gave me all the support to be who I am today. The woman I am today, I owe it all to you. I love you deeply. To my one and only Sugar, when the going got tough. For bringing out the best in me. This isn't just my win. But ours."
Kaakie then added, "I could not and would not have made it without you all. And to everyone else who helped at every stage.. ur support,ur prayer, ur shoulders, ur strength. You know yourselves and am grateful to God for you and all the input in my life. Cheers I Came… I saw… I cried.. I suffered… but I MADE IT. And you can too. My beautiful stole from @kentefactory #Dont give up #Nothing good comes easy! #its definitely worth it! # OnlyGod."
Kaakie went off the music scene to pursue her education and that decision has paid off.
She shot to fame so six years ago and she was one of the hottest songstresses in the country.
She won the 2014 Dancehall Artiste of the Year after reigning supreme over Shatta Wale during the Ghana Music Awards.