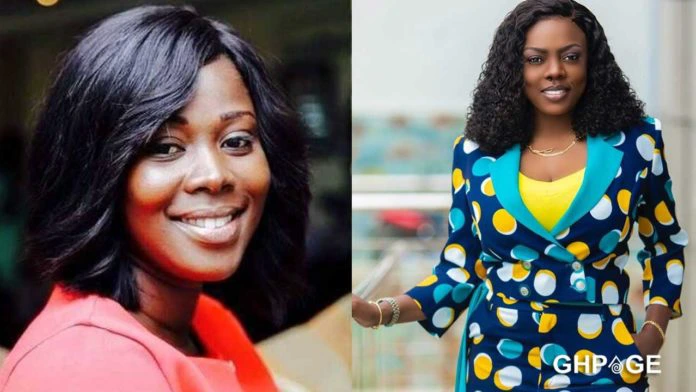 The Journalist who Nana Aba Anamoah accused of taking her to a juju woman eight years ago to destroy her has been disclosed.
According to popular UK-based Ghanaian blogger Chris Vincent, the Journalist who committed this evil act is Frema Ashkar who is the former lover and manager of highlife musician, Kwabena Kwabena.
Chris Vincent of Ghanacelebrities.com revealed that Frema Ashkar was the best friend of Nana Aba Anamoah several years ago and it was during that period that she took her colleague to a juju woman to destroy her.
"About 8 years ago while Nana Aba Anamoah was at TV3, her then best friend, Frema Ashkar, who until recently was Kwabena Kwabena's bedroom doll, dragged her to a juju woman—to destroy her, we've been told.
GhanaCelebrities.Com has been reliably informed that the 'witch' is no other person than Frema Ashkar. Yeap—she did that", Chris Vincent wrote.
Chris Vincent made this allegation after the media personality at GhOne TV revealed that 8 years ago her best friend who is also a Journalist took some presents and personal belongings to a juju woman to destroy her and her career.
Nana Aba Anamoah disclosed this after she won two awards at the just ended RTP Awards held at the Accra International Conference Centre.
Nana Aba won the Television Development Show Host of the year and Radio & TV Personality of the year.