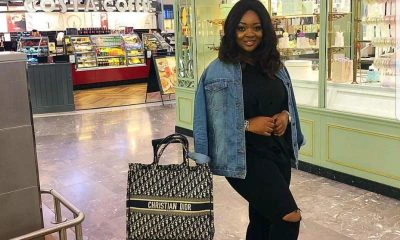 Jackie Appiah has promised to sponsor the education of an inmate at the Borstal Institute for Juveniles in Accra.
The actress made the promise on her birthday after authorities at the Institute appealed to her to support the said brilliant inmate.
As part of the celebrations, Jackie visited the institute to donate items for the upkeep of the boys at the Juvenile detention centre . It was during the donation in the home that the officers in charge of the institute asked for help for the inmate who is said to be very brilliant. "We would want to specially appeal to you for assistance. We have a very brilliant but needy inmate student who attends SHS at the same time…He is in form 2 and he is actually reading science. We want sponsorship to take care of his T&T, writing materials, among others," one officer said.
Responding to the officer's plea, Jackie disclosed that she has had discussions with her management team and they have come to the conclusion of helping the boy. "I have discussed with my management…I hear he is a very brilliant science student…we will gladly take up the bills," Jackie said to applause.
The Borstal Institute for juveniles now called The Senior Correctional Centre is a juvenile correction institute under the Ghana Prisons Service (GPS).
The centre is a correction centre for people who are under 18 years old and have been convicted of criminal or civil offenses. The period that a convict spends in the centre is aimed at reforming him or her so they can fit into society easily after their stay at the centre.