The Ghanaian comic actor, Benson Yaw Oduro Boateng, popularly known as Funny Face has has written to his friend Adebayo to plead for forgiveness after Adebayo I unfollowed.
Funny Face, who expressed how sorry he was to Adebayo, Bola Ray and Fadda Dickson explained that he was going to through though times since November last year till now after his ex-girl accused him of defrauding her $53,000 because he said he will not marry her again. This were all challenges he was going through but but he could not explain it to anyone.
Funny Face further recounted the contribution of his friend Adebayo to his life as he described him as one of the Pillars in his life and even had to go through some disgrace because of him. He added that he "can never beg Adebayo enough" or probably justifyhus actions as he advised him along side Bola Ray and Faddick but he would not listen.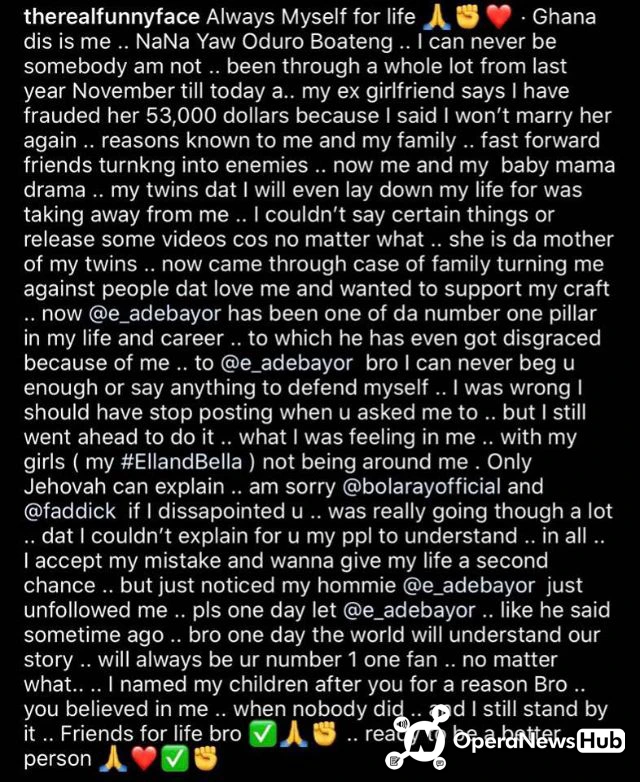 He is pleading forgiveness from his friend as he promised to be a "better person" and that "just one day let Adebayo like he said sometime ago …. brother the world would understand our story". He added that I named my children after you for a reason".
It hopeful that this words of Funny Face will touch his friend who used to be his number one fan to follow him again.