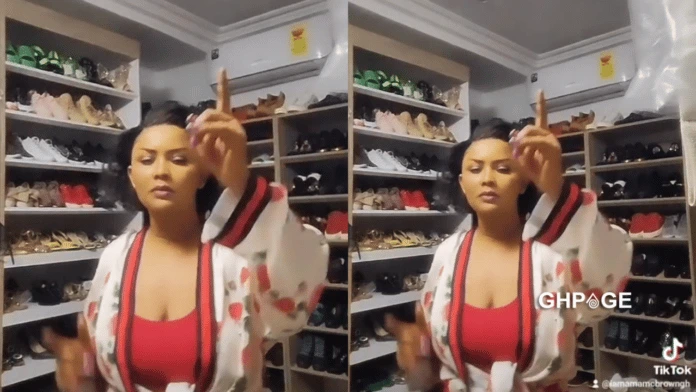 Empress Nana Ama Mcbrown surprised  many Ghanaians online yesterday after she showed off her plush closet filled with all kinds of  bags, shoes and watches.
The award-winning actress shared a vidoe of herself dancing to a Gospel music in her closet. The video exhibits her shoe collection from sneakers to stiletto heels.
Watch the video below to know more…
The harmless video from the camp of Nana Ama Mcbrown has landed her in a troll pit on the internet as most people think it wasn't unnecessary and below the belt for her persona.
A section of social media users who seems to abhor the flashy lifestyle of the screen goddess have savagely slammed her in the comments section of the video.
According to these bitter people, Nana Ama Mcbrown has now turned herself into a slay queen after enhancing her body because prior to her liposuction, she was very calm and collected.
They have since rained all manner of insults and derogatory words on Mcbrown just for showing off her closet.
Some unfriendly comments from Mcbrown's not sooo good 👍  friends below;
Sarah Aba Amissah – Some are working hard and owns nothing because they pay rent and take care of their family, flaunting this does not mean anything, peace of mind,happiness and God's love is all I need.
Yaa Kwankyewaa – The moment I saw her video, the only thing that came to mind was "she isn't doing any yoga, just flaunting her shoes" and so, I stopped watching. I dont know why these so called celebrities like to show off like that. Enti you have lots of shoes enti y3ny3 no de3n? When people are struggling to find their daily meal look at what others are doing? Give us a break!!
Hafizaa Apple Pear Shamsiya – This what an Arab white celebrity will never do because it harm, to keep stuff that someone needs it to survive and you keeping it for God knows when.May God bless us with knowledge that will be a beneficial to others so our blessings will be abundantly.
Kofi Nartey – Queen Elizabeth just died and we are mourning wai and remember she is the Queen of England with over $386 billion Gold bars under her watch n not to add the trillion of pounds. Only the wise will understand.
Roy Kaye – Why do you people put pressure on the young people like that by flaunting your material possession on social media. Stop that.
Gloria Nkrumah – She will do all these and later come and say this world we won't take it anywhere
Patricia Owusuaa – Vanity upon vanity, which one would you wear to your grave or to meet your creater in heaven?