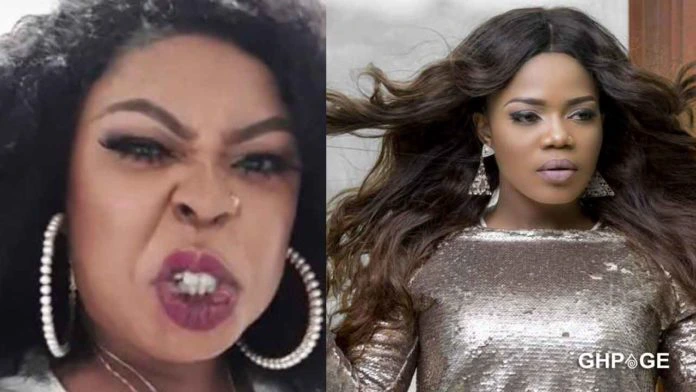 Afia Schwarzenegger after a long wait has finally reacted to Mzbel's accusations against her that she sleeps with dogs for money in Kumasi.
They two media characters have an interesting history. For sometime now, they have been on each other blasting and revealing damming secrets among themselves.
About a week or two ago, Mzbel in an exclusive interview with Mona Gucci on Kantanka TV disclosed that comedienne Afia Schwar she sleeps with dogs in Kumasi for  $5000.
According to the "16 years" hitmaker, Afia Schwarzenegger told her because she was proud of it and showed absolutely no regret.
Afia Schwarzenegger also blackmails politicians and sleeps with dogs for $5000.
Again she revealed that Afia Schwarzenegger's business is by blackmailing politicians and other popular people in the country and they end up paying her for it.
Well, Afia Schwar in a Facebook live session has reacted to the many accusations levelled against her by former friend Mzbel on TV.
She rubbished the wild claims by Mzbel against her stating that she cares less about the many shades thrown at her.
Afia Schwar mentioned that she has a big God who never fails her and will never fail her regardless of the circumstances that may come her way.
In the same video she took the opportunity to celebrate her 5Million view subscription on YouTube to shame Mzbel cos she once stated that the latter has nothing better aside from the money she gets from her YouTube Channel.
She advised her fans that irrespective of what may come from haters, they should keep their heads up and move ahead to the reach their target.
Watch video Below