Victoria Lebene and her husband, Eugene Osafo Nkansah has hit back at Yvonne Nelson for cursing their marriage and unborn child on Twitter.
Reacting to the ongoing beef they have with the popular actress, Eugene Osafo Nkansah speaking on Okay FM with Abeiku Santana described Yvonne Nelson as someone with 'Low Emotional Intelligence"
Yvonne Nelson loses her cool on Twitter; Curses Victoria Lebene's marriage and her unborn baby (Screenshots)
According to Eugene, Yvonne Nelson claims she wants to join politics and even studying to that effect but she is not emotionally matured as a person.
He also thanked Yvonne Nelson for sarcastically praying for their marriage and assured her God is with them so no negative energy will affect them.
Watch Eugene Osafo Nkansah below
Victoria Lebene on the other hand in serious of tweets mocked Yvonne Nelson. She described Yvonne Nelson as someone who does not think before posting on social media.
Lebene again described Yvonne Nelson as a bitter person who sounds pathetic. To Victoria Lebene, Yvonne just exposed her insecurities to the whole  world.
The 3rd class actress who worked for GHOne TV as a reporter for a while and ended by describing Yvonne Nelson as someone with 'low Emotional Intelligence"
Victoria Lebene Tweeted 
I didn't know Twitter was this addictive, that's why some people don't think before they write. Welcome me to the club.?
You have just exposed yourself to the whole world on how bitter you are?So so pathetic.
Emotional Intelligence is key ?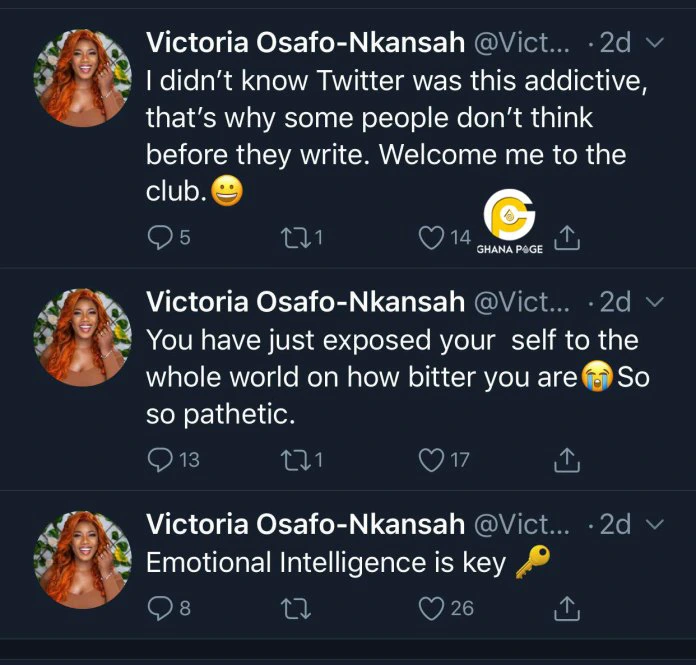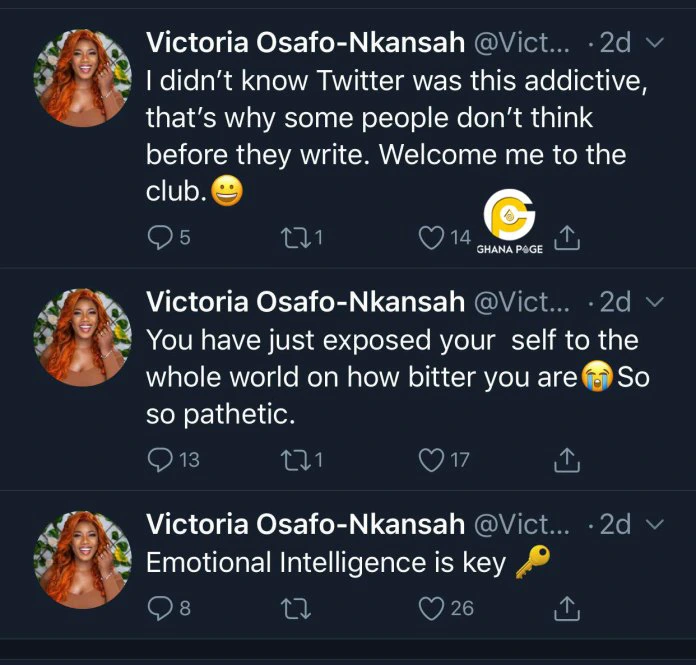 It all started when Yvonne Nelson after the Cardi B brouhaha tweeted " Know your worth".
Her tweet was meant to describe all the Ghanaian celebrities who were snubbed as people with no self-worth.
One angry Twitter user threw jab at Yvonne Nelson which Eugene Osafo Nkansah supported because his wife was also snubbed by Cardi B. It's been banter after banter since then.