Actress and TV presenter Matilda Adwoa Densu popularly known as AJ Poundz has leveled serious allegations against the newly wedded Keche Andrew.
Speaking on her "Nk)nk)nsa Headquarters" show which airs of Onua TV, AJ Poundz alleged that Keche Andrew is already married to a beautiful woman with whom he has two kids with.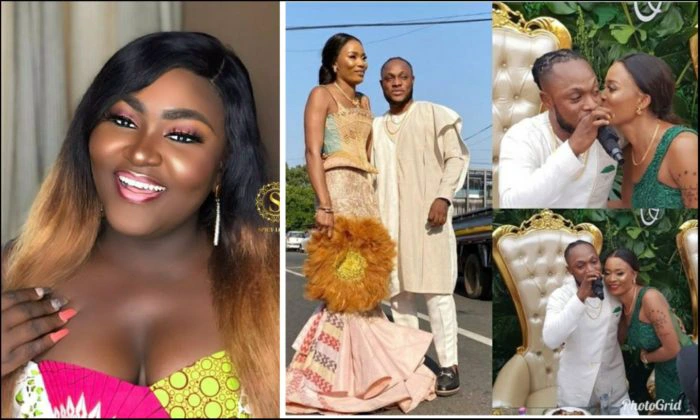 According to AJ Poundz, Keche Andrew married his boss Joana Gyan who is way older than him because of money and fame.
AJ further explained that a lot of young beautiful ladies who were at the wedding ceremony came to her DM to express their displeasure about the marriage because they had eyes for Keche Andrew.
AJ also added that, the ladies wondered how a young and handsome musician like Keche Andrew would end up with an "old" woman.
The "Efiewura" actress further questioned the musician who probably didn't watch the show if it is true that he actually left his beautiful wife and two kids to marry Joana Gyan for her money.
Watch the video below;