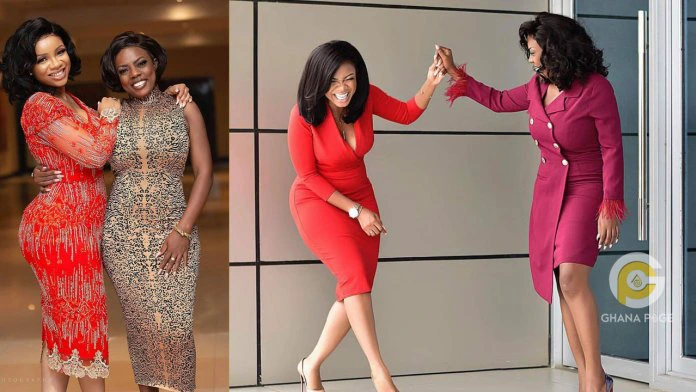 The story of Serwaa Amihere's from nowhere to the topnotch media personality has finally been told by her mentor, Nana Aba Anamoah.
Nana Aba Anamoah on the KSM show has gushed over how she has been able to transform the ignorant young lady who nobody thought could make it in the media industry to the award-winning journalist that we see today.
https://www.instagram.com/p/B3kJiISleKb/?igshid=cd3md7gyg4bx
She revealed that she had mentored many media personalities but none of them was as difficult Serwaa Amihere, her trophy mentee.
"Serwaa is my trophy mentee because the other people I have mentored came from a similar background so it wasn't difficult at all but this girl was different," she revealed.
According to Nana Aba, when Serwaa Amihere was referred to her to be mentored, she saw an ambitious lady who had no idea how to go about achieving her dreams.
Her general appearances did not fit the career she wanted to join for starters and she was not ready to change it when she recommended.
"Serwaa had a different lifestyle, Serwaa was the girl who will wear big hair, long lashes, long nails, skimpy dresses and she wanted to be in the media but she was lost," Nana Aba added.
But she came around with time and she started showing her the path to stardom as a media personality.
The host of State of Affairs on GHOne TV, Nana Aba Anamoah revealed how proud she feels whenever she realizes how far Serwaa Amihere has come from the clueless girl most men just wanted to sleep with before they help her achieve her dreams.