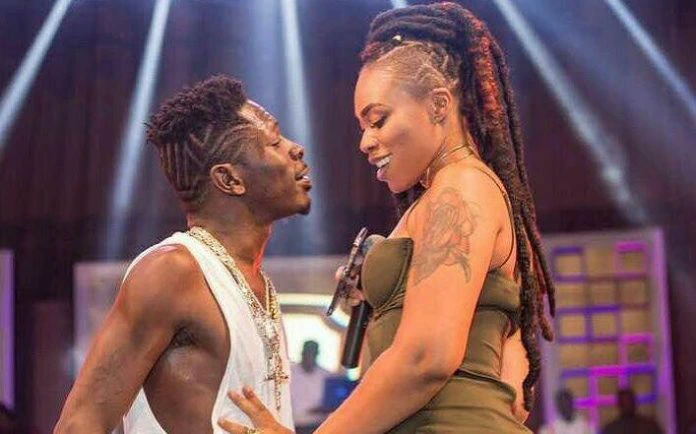 Ghanaian songstress and entrepreneur Diamond Michelle has shockingly revealed that she had to run away from Shatta Wale without her belongings because the situation was unbearable.
Speaking in an interview with Joy News' Becky, Michy revealed that Shatta Wale tormented her just after he proposed publicly to her at his 'Reign Concert' last year.
According to the singer cum entrepreneur, Shatta Wale's proposal to her was staged because the circumstances that occurred after the memorable moment indicated that it was not for 'real'.
"You don't propose to someone and you torment them after. I didn't force you to propose to me. I was grateful for it but you see if we have gotten to the point where you(Shatta Wale) have proposed we should have come out of all these troubles, all these unnecessary squabbles." Michy disclosed.
"Is like after the proposal it got worse.it was unbearable. What you guys do not know is I literally run and left my clothes. I did not carry 'Chalewote'.I did not carry one outfit, one dress. Not a wig, slippers. I was in a bathroom robe, my son was in boxers. Nobody knows this. I am tired of being made to look like everything was good and nothing happened and I just got up and left. For me to run without my clothes. It was an unbearable situation." Michy stressed
According to the 'cheating rules' crooner, her woes in her relationship with Shatta Wale was because she loved him too much.
"Maybe I loved him(Shatta Wale) too much. I think it has always been like that and is not a bad thing but. My mum always told me something I never took. She says 'Love with your heart, you think with your head. I was in love with my whole body, my mind and my soul." Michy revealed.
Michy indicated that she has no regrets quitting her relationship with Shatta Wale and she is not bitter about it.
According to her, she is a happy person now and she counts the break up as a blessing in disguise.
Watch the video below: