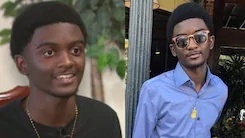 – Jeramy Botwe, a Ghanaian teenager has received admission into all 15 schools he applied to
– The 17-year-old student also got admission from all eight Ivy League Schools
– While Jeramy Botwe is yet to decide on any of the schools to attend, he plans to study pre-med and become a doctor
Ghanaian teenager. Jeramy Botwe, has made global waves and dominated major headlines for his remarkable achievement after he received admission into all 15 universities he applied to including the eight Ivy League schools.
The universities include Harvard, Princeton, Yale, Standford, Brown, Dartmouth, Rice, Columbia, Cornell, Massachusetts Institute of Technology (MIT), Duke, University of Pennsylvania, University of Texas, University of Houston and the University of Chicago.
17-year-old Jeramy Botwe studied at the Harmony School of Advancement in Houston, Texas, and graduated with a top GPA score of 4.51 for the class of 2019.
Becauseofthemwecan.com reports that Jeramy, was the president of the National Honor Society Director of Key Club, co-captain of a science club and the treasure of his student council at Harmony.
Jeramy Botwe is currently a student at the Stanford University, studying Human Biology and African-American Studies.
Jeramy Botwe attributes his success to his father, who raised him as a single dad.
The determined young Ghanaian believes that people should always try to reach their ultimate best and never settle for less.
The triplets were honoured by their school for completing with top scores. Kendall, Kolby and Sydney Belcher were also enrolled in college while in high school, so they began with nearly a year of credits.
Their mother, Cathey Belcher, disclosed in an interview that she is happy and proud of her kids.