Ghanaian actress, Juliet Ibrahim, has recounted the painful and heartbreaking experience she had when her ex husband Kwadwo Sarfo Junior divorced her.
Sharing a part her life in her book titled "A Toast to Life" where she narrates this sad experience Juliet Ibrahim, revealed that she thought her life was over when her marriage ended after the divorce.
The actress disclosed that she used to lie in bed alone crying because of the pain it brought to her. She also revealed that people blamed her for the failure of her marriage because she was too focused on her work.
She admits the divorce deeply affected her mental health as she constantly heard voices telling her life was over.
She shared a page from the book and captioned it;
"#WorldMentalHealthDay mental health illness is fast growing amongst us all and I am glad a lot of people are talking. Speaking out & not dealing with issues in silence is one major step in beating mental health issues. In @atoastolifebook I had to go through alot alone. I had to learn that I needed to share these things in order to heal and be a better person. In a world with so much societal pressure, peer pressure, keeping up appearances, trolling and cyber Bullying we need to look out for our friends and family and also develop the culture of talking about things that affects our mental state of mind. Keeping it inside is never the solution. It'll all become better if we all can learn to speak kind words to each other and make the world a better place. #saynotocyberbullying #saynotosuicide
SEE PHOTO BELOW: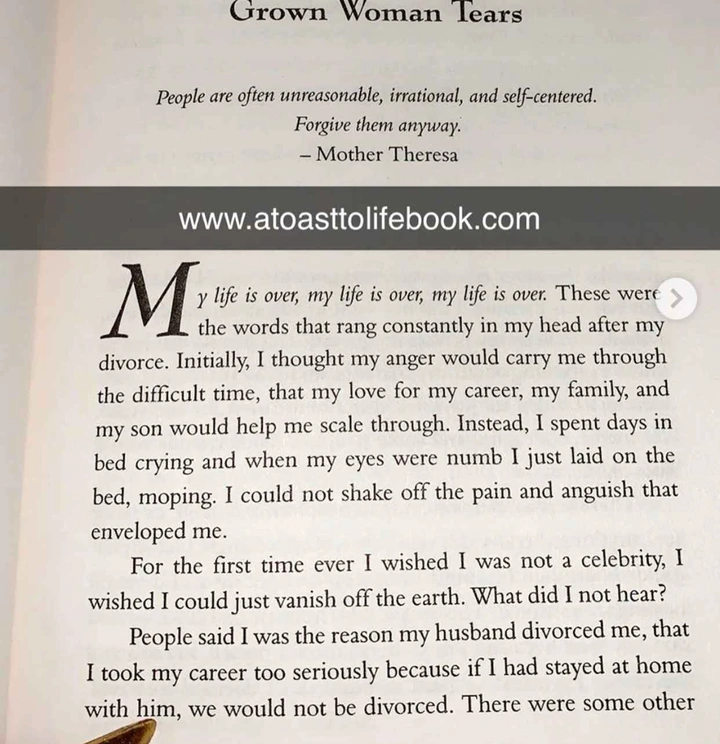 After my cheating husband divorced me, I was in bed all day crying -Juliet Ibrahim appeared first on .